TWN is more than an internet provider. TWN is your partner.
Besides bringing fast, reliable 100% fiber internet to MEC members, TWN is committed to giving back to our local community. Not only do we serve our community, but many of our employees live and work here too.
The genuine connections and conversations that come from being involved in our community enable us to better meet your needs. Plus, we love to support local causes and organizations that are important to the members we serve.
Over the past couple of months, TWN has participated in several events in the MEC area. From golf tournaments and luncheons to parades and poker runs, we are present in our community and committed to you.
In October, TWN volunteered, sponsored, and participated in the Chip in Fore Kids Golf Tournament, in which all proceeds went to benefit our local Boys & Girls clubs.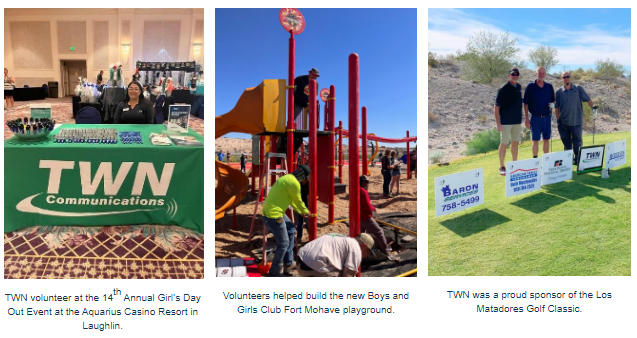 We also attended the Colorado River Women's Council (CRWC) monthly luncheon to plan upcoming community events and volunteer opportunities. In addition to sponsoring the CRWC Partnership Event Program, we like to participate in the council's fundraising events whose proceeds are returned to the community through grants, scholarships, and more.
To round out October, TWN served as a vendor at the 14th Annual Girl's Day Out Event at the Aquarius Casino Resort in Laughlin, as well as worked alongside many other volunteers to help build the new Boys and Girls Club Fort Mohave playground.
November was also a busy month! TWN was a proud sponsor of the Los Matadores Golf Classic. Proceeds from this event support improvement projects and youth programs in the community.
We also participated in Bullhead City's annual Veteran's Day Parade and sponsored the Boys and Girls Club Desert Tromp in Topock. All proceeds from this fun, off-road poker run benefit local clubs.
Additionally, TWN employees kicked off the holiday season at this year's Boom Box Parade.
TWN volunteers and their families decorated TWN vehicles with inflatable decorations and lights and handed out candy to the attendees.
TWN is committed to keeping you connected, and we're committed to connecting with you.
Our fiber internet is always on, always available. Now, TWN is making sure we're always involved too.
Discover the TWN difference today! Check availability in your area or pre-register for service: https://www.twncomm.com/mohave.
Already enjoying fast, reliable 100% fiber internet from TWN? Refer a friend and you both earn $25* today!