TWN and Heartland REMC Reach New Phase of Internet Build
As the weather heats up, we are continuing to push forward to build out the new high-speed internet system as fast as possible.
Along the way, we have been asked a lot of questions about what the system will look like at your home. So far, the building process has focused on the main lines of the system or the core. Enough of the core has been completed in a tri-county area east of Roanoke that we can start looking at smaller lines in neighborhoods and soon individual home/business lines. Now that we are close to hooking up the first members, we can show you what some of the equipment will look like.
At your home, you will have a dedicated fiber line that feeds into your house. By having a physical line, you will not have to worry about lagging speeds or drops in speeds while you are working or streaming. The entire system is being built with redundancies to make it the most reliable internet connection in the area!
The line into your home will follow your electrical line. If your electrical line is underground to your home, your fiber line will be buried just like the one pictured to the right. This picture is one of the first homes in Heartland REMC territory to receive underground fiber (not a complete hookup, yet). If you have an overhead line into your home, your fiber line will be brought in overhead.
Once the fiber line is brought to the home, you will have a small box on the outside of the home to house the local equipment. This box will be near your electrical meter. If your electrical meter is located on an outbuilding or a pole, your fiber box will still be attached directly to your house.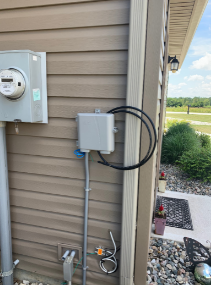 Once both steps have been completed, your home will be "fiber ready." When a home is deemed fiber ready, the last step before you can enjoy true high-speed internet is signing up for service and the in-home installation. If you have pre-registered, TWN Communications will reach out to you so you can sign up for service and schedule a time for a technician to come in and set up your network.
Make sure you and your neighbors pre-register for service at www.heartlandtwn.com. Pre-registration does not sign you up for service, it simply lets us know you are interested. Lafayette CO zone had the most pre-registrations at the start of the building process, so that area is the current focus. Want us to build in your zone next?  The area with the most pre-registrations (which does not have to be 100%) will be the next focal point.
To view your zone and pre-registration numbers for your zone go to www.heartlandtwn.com and click on zones.